News, Events & Member Firm Updates
LATEST NEWS
Follow CLC on
twitter
for the latest in industry news, events and updates from CLC and all our member firms.
News
Last Updated November 9, 2021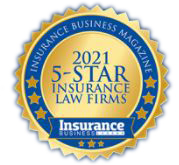 November 9 - HBC Trademark Troubles: A review of the Zellers trademark dispute between HBC and a Quebec retail family by Mila Falkenstein and Adam Ostermeier
November 2 - IBC surveyed insurance companies to find out which lawyers and law firms are setting the standard in the Canadian market. McCague Borlack LLP and Howard Borlack individually made the 5-Star list!
November 2 - In Nelson V Marchi, Supreme Court Clarifies the Core-Policy Defence for Municipalities by Drew Wilson
October 26 - Revisiting Governmental Immunity in Negligence Claims - Case Study: Nelson (City of) v. Marchi by Alan Drimer and Ryan Taylor, MB
October 15 - CLC appoints Sanja Kraljevic as Executive Director - read her goals & visions. Sanja is counsel at CLC's BC affiliate firm, where she will continue to practice part-time - read Sanja's full profile on the WT site.
Oct 6 - Vaccination or Rapid Test Workplace Policies Gaining Momentum and Validity as 4th Wave Workplace and Community Issues Escalate by Colin Fetter, Brownlee LLP
Sept 28 - Amending to Add Family Law Act Claims: Not So Fast! By Eric Boate and Ryan Taylor
Sept 20 - The Pendulum Swings towards Employer-Driven Mandatory Vaccination Policies By Martin Smith and Paul Jacoby
July 15 - You got hacked: Limits on liability - A Case Study of Owsianik v. Equifax Canada Co, and Intrusion of Seclusion by Howard Borlack and Anita Zamani
July 8 - Enforceability of Waivers: An Update - Case Study: Arksey v. Sky Zone by Alan Drimer and Ryan Taylor
July 6 - Punitive Damages v Employee Contributory Negligence - Case Comment: Eynon v. Simplicity Air by Howard Borlack & Dominique Mesina
June 23 - Open Court Principle Prevails - Case Study: Sherman Estate v Donovan by Howard Borlack and Winona Fitch
June 17 - Arbitrations and Receiverships: Do they need to be legally distant? - Case Study: Petrowest Corporation v. Peace River Hydro Partner by Howard Borlack and Anita Zamani
June 16 - Unrealistic Coverage: Insurer tripped up by loose policy language - Case Study: Surespan Structures Ltd. v Lloyds Underwriters by Hillel David and Howard Borlack
June 16 - The perils of failing to close a purchase and sale agreement - Case Study: Joo v. Tran by Howard Borlack and Alexandria Bonney
May 7 - The Current State of the Law on Adverse Costs Insurance by Van Krkachovski & Ryan Taylor
May 1 - MB's Van Krkachovski will be speaking at CDL's 2021 Insurance Coverage Symposium. His topic is "Adverse Costs Insurance". The dates are May 4 & 6. The event provides 5 hours of CPD - click here for details or to register https://lnkd.in/exp3f3f
April 6 - Litigation Loans and Adverse Cost Insurance - an update on Champerty and Maintenance - by Van Krkachovski and Ryan Taylor
April 6 - Must an Insurer wait until Trial to Contest the Validity of the Policy? by Hillel David
March 26 - Litigation Loans and Adverse Cost Insurance - Webinar Handouts
February 26 - Being Proactive with Environmental Claims - Case Study: Albert Bloom Limited v. London Transit Commission by Howard Borlack and Adam Ostermeier
February 16 - Winter Maintenance Contracts - Featured Case Study: Ruetz v Metro Canada by Michael Kennedy and Jennifer Ilton
February 9 - Allegations are Subject to Higher Scrutiny When Made Against Personal Defendants - Featured Case Study: Matlock v. Ottawa-Carleton Standard Condominium Corporation by Martin Smith
January 18 - Disengaging Assets subject to a CCAA Proceeding - Case Study: Teliphone Corp. v. Ernst & Young Inc. by Howard Borlack and Adam Ostermeier
January 18 - Early Inquiries are Critical to Ensuring Inclusion of Defendants - Case Study: Amanda Ali v. City of Toronto by Howard Borlack and Adam Ostermeier
January 18 - Claim for Loss of Opportunity Damages - Case Study: Akelius Canada Inc. v. 2436196 Ontario Inc by Howard Borlack and Adam Ostermeier
January 14 - Statutory Thresholds and Deductibles in reference to Tort Damages in MVAs by Van Krkachovski and Chelsea Dobrindt
January 13 - Who Pays to Produce the Medical Records? Case Study: Trumble v Soomal by Eric Boate and Jennifer Ilton
January 8 - Silence is not golden when it comes to contracts - Case Study: C.M. Callow Inc. v. Zollinger by Howard Borlack and Adam Ostermeier
January 5 - A Million Dollar Bonus after Constructive Dismissal - Case Study: Matthews V Ocean Nutrition Canada Ltd by Howard Borlack and Jennifer Ilton
January 5 - Big Changes to Small Claims: How COVID-19 has affected the Small Claims by Howard Borlack & Chelsea Dobrindt
December 16 - Expert Evidence May Not Trump in Summary Judgment Cases: Case Study: Haley v Stepan by Michael Kennedy
December 16 - Summary of changes to Reg. 194 under the Courts of Justice Act: Rules of Civil Procedure by Eric Boate, Ryan Smith and Jennifer Ilton
December 7 - A Case study for Markham (City) v. AIG Insurance - 2 Insurance Policies, 1 Insured: Who Defends the Action, Who Pays the Costs of the Defence, and Who Controls the Defence? by Van Krkachovski and Ryan Smith was updated with the appeal decision from the Supreme Court of Canada
December 2 - Legal Liabilities and the Transmission of COVID-19: What you need to know about Bill 218 by Jessica Grant